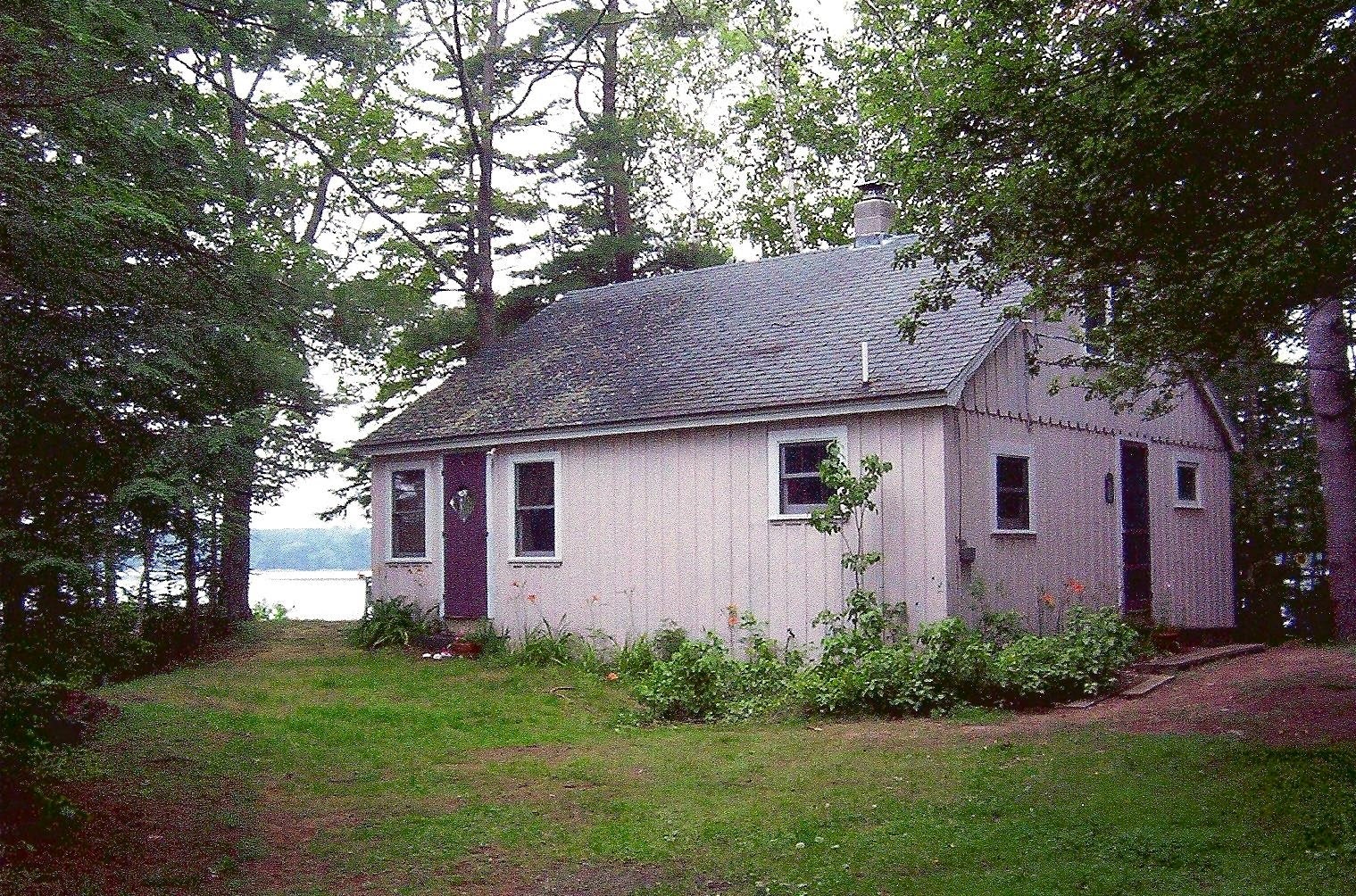 -Rent A Priest Hall of Fame Inductees: CORPUS, Linda Pinto and Ralph Pinto

When I think of people in the CITI movement that I would consider among the Holy Ones, they would fall into three categories: the married priest organizations, CITI's Board, especially the original members and the CITI volunteers who gave so generously of their time.
One of the most profound weekends I ever experienced during my years in CITI occurred was when I attended my first national married priest conference–Corps of Resigned Priests United for Service (CORPUS), in Chicago 1992. The whole weekend for me was like walking through the pages of the Holy Bible. I had never been among so many sacred people at one time in my life. I remember thanking God every night for having the privilege to just be among them. Saying this today reminds me of the PBS-TV "Religion and News Weekly" coverage we received in 1999 (Rent A Priest was "Story of the Week.")
When the camera crew walked into the room where CITI was holding a seminar, I remember the Producer, in awe, saying to the group of 75 or so, "Are you really all priests?" This is how I felt at my first CORPUS conference in 1992.
The integrity of priests who married became even more clear to me that weekend. I believe the Holy Spirit intended for us to connect.
The heart-wrenching stories of married priests being blackballed by the bishops in their communities so they couldn't get decent jobs; others, at the whim of the hierarchy, being told to fool around instead of getting married ("just get it out of your system"); still others being warned to remain chaste while witnessing their own superiors having affairs with women and/or men, or even abusing children; these stories just ripped up my insides.
Some married priests also revealed stories of how their clerical training prepared them for little else in the secular world, so making decent money to support a family was not easy. Several had four or five jobs before they found anything suitable for their respective talent even though they were all well educated, some having Masters Degrees and/or PhDs. There were no employment counselors to help out married priests, and most Catholic schools and colleges or universities were controlled by the bishops, so there was no option there either.
On the final day of the Conference, I was standing in the back of the auditorium watching 700 or so of these people clenched together in the Lord's Prayer, knowing they wouldn't have this much support until they met again the following year. I had heard about parents, siblings and others who turned their backs on priests who married. It's been a difficult life for many of them.
Corpus seemed like the perfect home for me to hang my hat. Here they were, married priests ready for service and Canon Laws to help them get there. They apparently just needed someone to light a fire under them. There were differences, however, in the interpretation of "ready for service." Corpus' philosophy was to try to negotiate with the hierarchy in hopes to be welcomed back at the altar. And some would be told over the years of such a possibility if one's wife died or if he abandoned his family.
Meanwhile, the public response to CITI's promotion came from those being refused ministerial services by the Catholic hierarchy, not necessarily on Corpus' radar at the time. The organization preferred the support from church-attending Catholics. Everyone, priests and the church-goers, was awaiting the bishops' permission. That wasn't happening.
A few Corpus members who were interested in offering their ministry in a more public fashion if asked signed up with CITI. This included one of their co-founders, Rev. Francis McGrath who volunteered for the CITI Board, not yet formed at the time. Also, Corpus' newsletter editor Jesuit James Magmer eventually launched CITI's newsletter Come As You Are.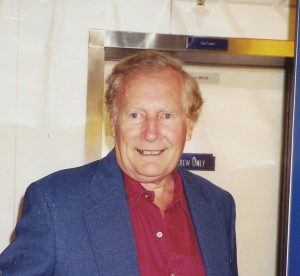 Rev. Francis McGrath, CORPUS Co-Founder, CITI Board Member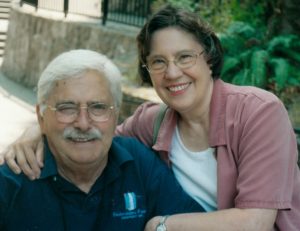 Rev. James and Jeanne Magmer. Jim was Corpus Reports Editor, later became Editor of CITI's Come As You Are newsletter.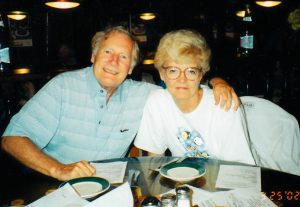 Rev. Francis and Mary McGrath. Frank was Co-Founder of CORPUS, later CITI Board Member
Corpus had strategically formed itself as a religious order so the marriages they witnessed would be legal. The organization financially supported CITI's toll-free number for a few years, fielding calls to their regional representatives. Hence, the country was somewhat covered for sacramental activity, though not at the pace I had planned.
CITI's affiliation with CORPUS worked well for several years. Meantime, CORPUS was still meeting with bishops to try to negotiate a return through the system. They were successful in re-activating cancelled pensions for some married priests who had been vested when they left. CORPUS was also a magnet for priests who were leaving and needed camaraderie. CITI was the next step–the bridge to a different ministry, but as a married Roman Catholic priest.
CORPUS was founded as an off-shoot of the Federation of Christian Ministries (FCM) the first organization of married priests. The split took place when FCM started supporting women's ordination and included other than Roman Catholic Married Priests in their roster. I made an attempt in the mid- 90s to combine all three organizations: CORPUS, FCM and CITI. The move was not popular and it never happened. We would have been quite a tour de force.
CITI's message to the public resulted in much media coverage (60 Minutes, Sally Jessey Raphael, 20/20, NBC News, NY Times including the International Herald Tribune, Time Magazine, Associated Press which reached over 300 newspapers, as well as 60 Minutes-type television programs in Austria, Switzerland and Belgium. International television networks would send whole production crews to our front door in Framingham, Massachusetts. Married priests became the church solution for those with unmet spiritual needs. The publicity also helped to awaken more of the old Ezekiel 37 "bones" among married priests. Some had not celebrated the Sacraments for 20 or more years, and they were curious for more information. Then, they would want to join yesterday. A sister organization formed in Denmark.
Organizations need glue in order to sustain themselves for the number of years they may be fighting for a cause. In the case of CORPUS, it has been Linda Pinto, wife of Fr. Ralph. As Member Services Chair, Secretary and the myriad other positions she has filled–most recently Keynote Speaker at CORPUS' 2014 annual conference–Linda knows just about everyone who has ever joined or has had some association with CORPUS. She is CORPUS' glue.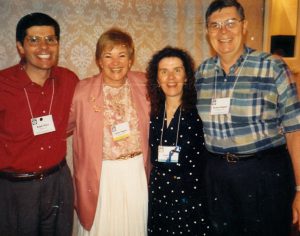 Left to Right: Rev. Ralph Pinto, Louise Haggett, Linda Pinto and Richard Haggett
Linda and I met in early 1992 before CITI was even incorporated. It was instant-like for both of us then and still is now. Same with Ralph. Linda probably chuckled at some of the secular terminology I was using in those days: "Mass" instead of "Eucharist," "chasuble" when I meant "alb," and in the early 90s, people in church reform in general were more sensitive to gender specific language in prayers (not referring to God as "He," for instance). I was still a neophyte living in the 50s and 60s.
Linda was for me, a wonderful teacher, supporter, friend and mentor. She was most helpful in editing the first news releases or letters to bishops that CITI was releasing. She also kept CORPUS members up to date on CITI's mission. She and Ralph responded to requests for Mass and other spiritual celebrations in their home.
Ralph celebrated the first Home Mass with us at the Maine cottage where the Rent A Priest vision had been received. My namesake and godmother Aunt Louise received Holy Communion for the first time in what she said was at least 60 years. (She had been turned away by her parish priest after she married a Protestant in Lewiston back in the 1930s.)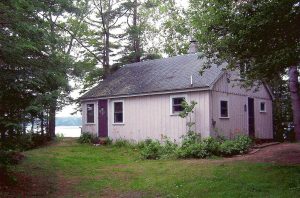 The Maine "Rent A Priest" Cottage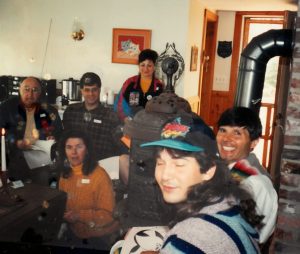 Our First Home Mass at the "Rent A Priest" cottage in Maine. Attending were the Pinto family, Dick and myself as well as relatives from Lewiston: Uncle Maurice (Mom's brother) and Aunt Muriel Gousse and Aunt Louise Allen.
Linda and Ralph are among the great blessings of my work in CITI and they remain good friends today and always. Because of their dedication and devotion, Linda and Ralph are being inducted into the Rent A Priest Hall of Fame, and I thank God for experiencing their presence in my copy of the Holy Scriptures for 22 years.
From a Spiritual Perspective
As I reflect on the many CORPUS meetings I have attended, the weekend of June, 1992 will always remain as the most faith-filled. It began with an invitation prior to the conference, to address the CORPUS board about the newly-formed CITI and involved a one-night stay in a monastery in the outskirts of Chicago where they were holding their meeting. The monastery was a first for me. To be able to go and sit in the chapel by myself at the break of dawn with the sun shining through the windows was awe inspiring. The campus was also very serene and a walk among the trees and flowers was a welcoming break from what had felt like a crazy life the past three months. I welcomed the peace that I felt there and wished I could have stayed longer.
The second significant happening that weekend was meeting keynote speaker, Father Joe Girzone, author of the Joshua series of books, which have sold over 3 million copies. Joshua is described as a simple man whose aura makes people in his presence wonder who this spiritual person is, even though he may just be a carpenter, or reading to children or trying to bring peace through spiritual gatherings in war-torn nations. Fr. Joe became my guru and spiritual leader for a long time. Several of us from Framingham would travel to the Adirondacks in July for his annual retreat, a profound and peaceful weekend. Fr. Joe is still writing today. One of his recent books The Homeless Bishop (2011)described a pope similar to our Pope Francis today while Benedict was still at the helm. A prophecy? (For more information on Fr. Joe, www.joshuamountain.org)
These mystical experiences helped to convince me that the Holy Spirit put me on the right track. And the next group that I would encounter was the "Gaithersburg Group" from Maryland, retired high-level government employees. This would be the beginnings of the CITI Board.
#30