Reverend Eugene Clarke
Atlanta Georgia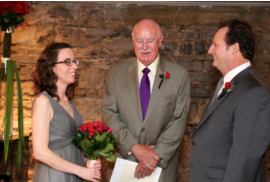 Are you thinking about getting married? Maybe you've already set a date for your wedding and it just dawned on you that you need "someone to marry you"… or more correctly someone to officiate at your wedding . Whether you're so starry eyed or just so excited that needing someone to officially witness your wedding just wasn't on your radar screen. Young or not so young, your wedding is the day that you will remember for the rest of your life. It should be an event that you have as much control over as is humanly possible. It's not only a joyous occasion but also a unique spiritual experience. Yes, everyone can see those stars in your eyes and you just can't wait to both speak and show your fiance the full extent of your love …..and you want your family and friends to be there to witness and celebrate with you.
Now it's time to find the right Officiant !
I might be the right person for you… Who am I?
I am an ordained Catholic Priest, in good standing in the Society of Christ's Priesthood, as well as the International Council of Community Churches. As such I have legal authority to perform marriages , as well as other ministerial functions such as Baptisms, funeral services as well as other ministerial
services. I myself was married for almost 44 yrs before my wife passed away in 2012. Last year I was so blessed to commit the rest of my life to my new wife…..someone who was widowed after another exemplary 44 year marriage.
I am available to participate in planning the ceremony while tailoring it as much as possible to suit the specific circumstances. I can provide the couple with specific texts, give suggestions for readings as well as ceremonies such as use of sand, wine and candles. I welcome the opportunity to perform the marriage ceremony in all kinds of environments either indoor or outdoor. Frequently couples find that a traditional setting such as inside a Church is not their desired setting. They may also find that their regular minister may not be allowed to perform a marriage outside the Church sanctuary or he may not
be available on the specific date. For some couples not being active in their Church may prevent them from having a Church wedding. I will gladly work with couples in the setting of their choice.
Even if you would like just to discuss your wedding plans I would welcome the opportunity to share my thoughts with you and offer suggestions. Feel free to call or send me an email.