A Life of Extended Blessings
January 9, 2014
"Fighting ideas is like fighting clouds. You can punch and kick, but what difference will it make? The way to impact the world today is by tackling the tangible items."
When I read the above in my horoscope a few days ago, it was like re-living my experiences in Rentapriest, a name that is still being googled more frequently than its original parent company name CITI or Celibacy Is the Issue. The horoscope reading finally inspired me to begin to reminisce on paper (blog) about the 20 or so years of life-changing events for myself as well as those who may have been impacted by Rentapriest, be they Roman Catholic priests, their spouses or the recipients of their ministry, or the many who have supported them and the mission of optional celibacy in the Catholic Church.
For those new to the story, Rent A Priest (Rentapriest) is a free referral service of married Catholic priests (priests who married) available for sacramental ministry to Catholics and others needing spiritual assistance.
My mother, Yvonne Blanche Gousse Labbe, was the inspiration for the founding of CITI/Rentapriest, for it was in her time of need that I discovered the shortage of priests and subsequently priests who married, Catholic clergy sexual abuse* and a host of other politics in the Catholic Church, what I had thought was my sanctuary.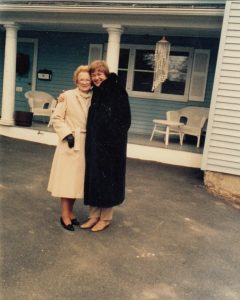 The last photo I have of my Mom and me, taken March, 1991, two weeks before she died.
In the summer of 2013, I was told that one of my mother's ancestors, Etienne de Lessard, donated the land for the Ste. Anne de Beaupre Shrine in Ste Anne de Beauce, Quebec, Canada, I thought, "Why am I not surprised. This is just another one of those 'doo-doo doo-doo moments in my life." And so my husband Dick and I arranged a trip North. I just wanted to see with my own eyes, and to drink the spirit of, Etienne de Lessard, who is buried in the Church. Ste. Anne of course was Jesus' grandmother and the Shrine is one of the foremost healing sanctuaries in the world.
My Mom was a very special woman. We've always described her as an angel, also a very smart and strong woman. A Canadian priest cousin of my Dad's told him of his betrothal to my mother in 1933 that she was "un morceau d'or" (a piece of gold). The Ste Anne lineage was just another confirmation for me.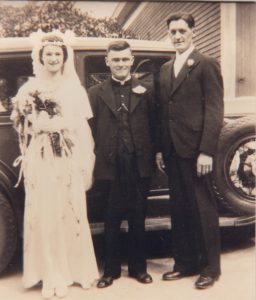 Yvonne Blanche Gousse Labbe, L'Abbe (Rev.) Lucien Lacharite, cousin/officiant, Raoul Ovide Labbe, married July 4, 1933
Divine intervention led me to CITI/Rentapriest in 1992 and the most phenomenal journey of my life. The Holy Spirit even provided a nonprofit specialist, married priest Rev. Donald Horrigan, to help me transition to retirement when it was time in 2011. The stories behind the work of the Holy Spirit during the 20 years of my involvement with CITI/Rentapriest have never been told. I had been warned early on that only scholastic justification would be recognized by the religious community, so "Don't tell those stories." Well, this is the beginning of the stories that need to be told before the end of my own life.
CITI/Rentapriest was "produced and directed" by the Holy Spirit. I was just an instrument. I have no other explanation for the many coincidences–God-incidence, providence or "doo-doo doo-doo happenings"–with regard to my life in the movement.
Perhaps the earliest unusual spiritual experience I remember was playing the part of Jesus in the first, second and third grades. I still wonder why the nuns would have chosen a girl for the role in a co-ed school with many boys available in my class. (I often wonder why the Holy Spirit chose a woman for Rentapriest too). There was very little dialogue for my part of the baby Jesus in the school play during the first two years. However, I remember having to learn quite a few lines the third time I played the part.
During grade school, we lived a mile or so from the church. I remember spending much of my weekend time at the church. I was fascinated by weddings and funerals, especially the beautiful hymns. I don't recall much about the funerals in terms of the dead or grieving families, but I do remember the confetti and pretty wedding gowns. In fact, we would gather the confetti and bring it home for the plays we put on in the garage.
I remember writing plays and directing them; in particular one in which the Blessed Mother was Annette Baril from up the street. Annette's mother had the most beautiful peonies I had ever seen so I staged a scene where there would be a peony at the Blessed Mother's feet and of course, that would have to be portrayed by Annette since she brought the flowers. In sixth or seventh grade, I remember writing and directing a play for the entire school including the faculty of Presentation of Mary sisters and the pastor and curates. It featured my friend Jackie Lessard as Alice Blue Gown, a popular song in the mid to late 1940s. Jackie jokes today that the reason she got the part was because she was the only one who had a blue gown.
During these early years, a neighbor and I would also spend some Saturdays at the convent helping the nuns clean up (wash windows, dust, etc.). My spiritual devotion was pretty strong. I remember having Holy Water near my bedroom door and talking to God in everyday conversation instead of rote prayers. I still do that. Once my Mom asked if I had thought of becoming a nun. That probably burst my bubble as it was never in my frame of reference even though I enjoyed the company of the religious…nuns and priests, even to this day. They have always provided a comfort factor in terms of "God talk" and I love a Home Mass, a gathering of friends and family for more spiritual sharings.
The friendships I had with nuns and priests as a schoolgirl and into my adulthood was probably a major reason why the revelations in 1991-92 (shortage of priests, married priests, clergy sexual abuse, mandatory celibacy and the rest of church politics) came as such a shock. As an adult, I wasn't part of the internal system–parish council, Cursillo or other religious group, but I considered myself a close secular friend to nuns and priests. I thought I had an ear to the convents and rectories and these subjects never came up in conversations. Many personal things from their lives were shared. However, I had no idea that nuns or priests got married or even had romantic relationships, let alone the politics and corruption.
When our Canadian cousin priest would visit in the summertime, he always brought his housekeeper. Today, I wonder just who she was in his life. Having Lucien around the house so much probably humanized these Holy people for me, though I always revered them as the Chosen Few who responded to the gift of the Holy Spirit–Jesus was alive in their belly, as I saw it.
Fast forward to the early 1990s and losing my parents five weeks apart from one another. There are so many personal stories to tell about the founding of CITI/Rentapriest especially as a result of my Mom's unexpected death that I can hardly wait to get started. There are also some great photos.
*The Bingo Report: mandatory celibacy and clergy sexual abuse, 2005. Available through Amazon.com.
#
(As I write this, I realize that in the 22 years that have passed, I don't think my siblings and I have ever had a retrospective conversation about how the untimely death of our parents affected us introspectively. We obviously went through the motions and emotions together, but we are quite spread out geographically so our infrequent gatherings surround children and grandchildren events, not around each other, an interesting observation as we near our own end of life.)