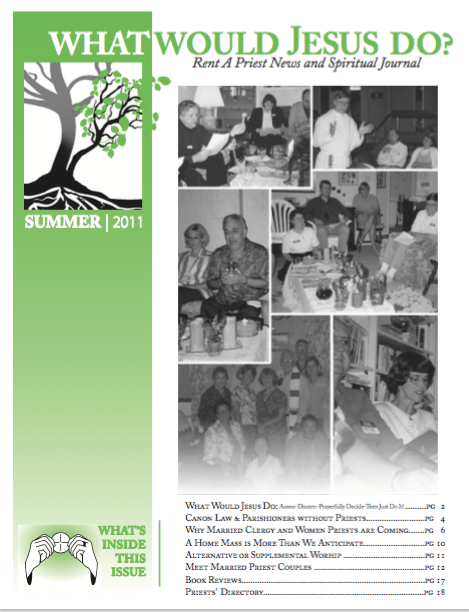 What Would Jesus Do?
ASSESS – DISCERN – PRAYERFULLY DECIDE – THEN JUST DO IT….
Inviting a Married Priest to your Parish for Mass.
By Louise Haggett
During the 1rst month of my involvement with CITI Ministries, in February, 1992, I experienced my 1rst Eucharistic celebration with married priests, while attending a regional married priest gathering. Fifteen or twenty of us were standing around the altar, spontaneously reciting the sacred words of the Eucharist—indeed consecrating it to- gether—holding hands during the Lord's Prayer, feeding one another bread and wine. I remember most, discussing the Gospel like we were sitting around in a living room. e day left me so spiritu- ally fed that I felt there could not possibly be any- thing wrong with what had happened.
Read the full news letter:
Newsletter Summer 2011