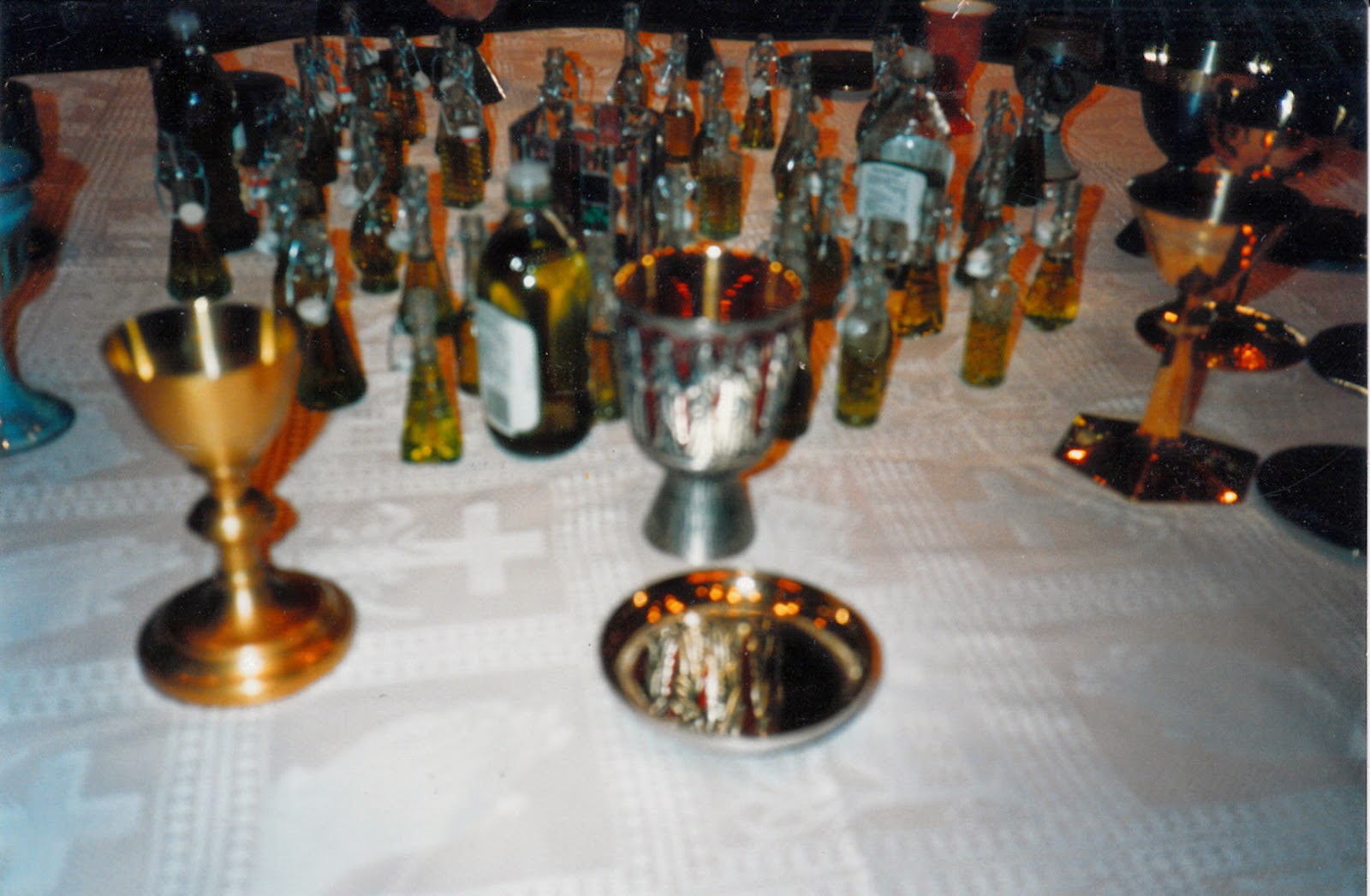 "The power of the Lord was upon me and I was carried away by the Spirit of the Lord to a valley full of old, dry bones that were scattered everywhere across the ground. He led me around among them, and then he said to me: '(Daughter) of dust can these bones become people again?' I replied, 'Lord, you alone know the answer to that.' Then he told me to speak to the bones and say, See! I am going to make you live and breathe again! I will replace the flesh and muscles on you and cover you with skin. I will put breath into you, and you shall live and know I am the Lord.'
So I spoke these words from God, just as he told me to; and suddenly there was a rattling noise from all across the valley, and the bones of each body came together and attached to each other as they used to be. Then, as I watched, the muscles and flesh formed over the bones, and skin covered them, but the bodies had no breath. Then he told me to call to the wind and say: 'The Lord God says: Come from the four winds, O Spirit, and breathe upon these slain bodies, that they may live again.' So I spoke to the winds as he commanded me and the bodies began breathing; they lived, and stood up–a very great army." Ezekiel 37:1-10
New Rent A Priest Hall of Fame Inductees: Rev. Daniel McGrew (FL), Rev. John O'Brien (MD), Mary Jane O'Brien (MD), Rev. Lee Ganim (FL), Roseann Ganim (FL).
During the early years of CITI, getting married priests to add their name to the Rent A Priest roster was not easy. While many married priest couples were participating in organizations that supported optional celibacy and the return to ministry, the idea of becoming publicly active in providing sacraments was frightening to them. While Canon Law validated married priests and the sacraments they conferred, the institution of the Church said it was illicit, not sanctioned. The Catholic hierarchy couldn't say it was illegal because they knew that the public had the right to ask, and married priests could not refuse. Know one else knew, however.
By the end of 1993 after CITI had been in existence for nearly two years and only six married priests had signed up. I remember how depressed I was while attending a conference. I was having lunch with married priest John O'Brien of Baltimore, Maryland. John and his wife Mary Jane had taken me under their wings and offered support including hospitality in their home several times. When I told John that only six married priests were in the Rent A Priest roster so far, he replied, "Hey, that's six priests who were not doing ministry a year ago, or for that matter, probably for the last twenty years. Look at what you have accomplished with the Holy Spirit." True, but armed with 21 Canon Laws that validated the existence of married priests and all that they could do, and knowing how much ministry meant to them, I expected 500 to sign up right away.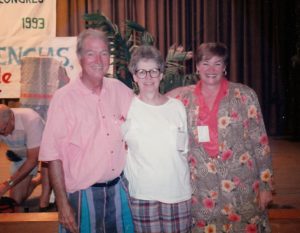 John and Mary Jane O'Brien, Madrid 1993
The majority of married priests were either skeptical of CITI, or their wives hated the name Rent A Priest, or they still felt obligated to their bishop who had forbidden any public ministry after they married. Mostly, they were waiting for the Vatican to say, "It's okay!" The bishops had told them to 1) "put your chalice in the closet and never use it again," and 2) "tell no one that you are a priest." I was urging them to 1) use their chalice often, and 2) tell someone every day that they were a priest, and just let the Holy Spirit do the work.
My generous husband Dick donated frequent flyer miles so that I could travel around the country to attend regional married priest meetings to create awareness of the Canon Laws and to recruit as many married priests as I could find. While CITI had been successful in obtaining publicity because of the title "Rent A Priest," requests for ministry from especially fallen away Catholics could not be fulfilled because of the lack of availability of married priests. There was little supply for the demand Rent A Priest publicity was creating everywhere and publicity was easy to generate with that slogan.
The first regional married priest meeting I attended after the national conferences in 1992, was in Miami, Florida in the spring of 1993, an invitation from Fr. Dan McGrew whom I had met at one of the conferences.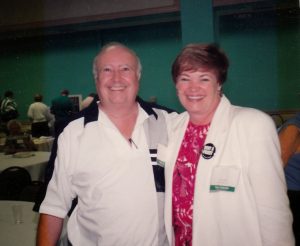 Dan McGrew, 1992
My husband Dick and I coordinated a vacation with our best friends around the same time. My friend, Barbara, a cradle Catholic, attended the meeting with me. Everyone was very interested in the new concept of going direct to the public without asking permission, but I don't recall even one married priest signing up. The big surprise for me was how my own friend who had been brought up in a Catholic orphanage couldn't get past the notion of these priests breaking their vows. The experience made me realize the magnitude of education that needed to take place among all Catholics, not just clerics, regarding the validity of married priests as well as the sacraments they provided. I thought, "What a good job the church has done in "brainwashing" everybody." The hierarchy knew what they did was wrong back in 1139: producing laws that prevented priests to marry, so they wrote laws that forced married priests to provide ministry for those who asked. However, no one else knew about these other laws–neither the married priests nor the people. Undoing the brainwashing was going to be difficult…especially with a shoestring budget.
Word spread quickly regarding the March 1993 Miami married priest meeting. As soon as we returned home, I received a phone call from Fr. Lee Ganim of Key Largo, Florida. "Could I FedEx him a package of materials for an upcoming meeting? He needed it right away." This was the typical mantra for priests who had been married for fifteen or so years and felt that something was missing in their life. It was their priesthood, so once they made the decision to return to ministry, they wanted the paperwork yesterday.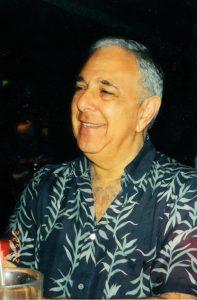 Lee Ganim
Lee's story is also similar to that of many married priests who wanted to offer their ministry to the public through Rent A Priest…slow and cautious. When Lee was banned from ministry by his bishop years before, he was told to move 500 miles away from his parish, which he did. He subsequently met lovely and sweet Roseann, a former nun, who had been teaching school in Key West, Florida. They courted, married and had four great children. Lee partnered in four restaurants in the Keys with his brother. Loved by the community, he became a trustee of a local bank and he dabbled in real estate.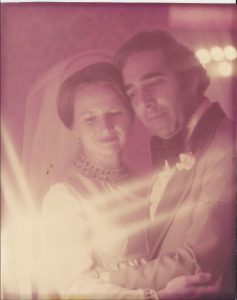 Rev. and Mrs. Lee Ganim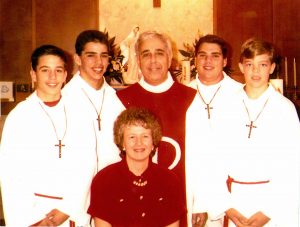 Greg, Stephen, Lee, Daniel, Dominic and Roseann Ganim.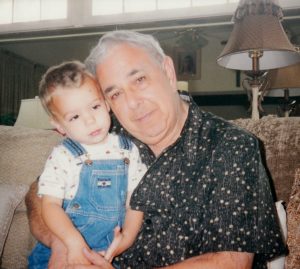 Lee and Grandson Christian
Lee is a Maronite priest. Raised in Cleveland, Ohio as a Roman Catholic, he was sent to Lebanon to do his seminary studies because of his Lebanese heritage. He was ordained a Maronite priest, in the same tradition as the married deacon who was ordained the first U.S. married priest in the winter of 2014 within the Roman Catholic Church. In Lebanon, ordained priests may marry so this tradition is the norm.
Lee and Roseann were well respected in their local parish and Lee was invited to vest and stand at the altar for Sunday Mass. He performed baptisms and funerals like a deacon. He and Roseann also ran the Rite of Christian Initiation of Adults (RCIA) program for new Catholics coming into the parish. Roseann was also the Liturgical Director.
During his early involvement with CITI, even though he wanted to desperately, Lee could not make himself actually say the words of the Eucharist, "This is MY Body–This is MY Blood," because his bishop had told him to never touch his chalice again, never provide any of the sacraments to anyone unless it was "danger of death." In 1994, I had planned a Mass for the public as part of a workshop at a married priest conference. It was to be held at a local Methodist Church. There would be a concelebration: Fr. Ken Knapp from the Washington D.C. area where the conference was held, and Fr. Lee Ganim. On the morning of the Mass, there was a letter from Lee awaiting me at the hotel front desk. Lee had such anxieties, he had gotten on a plane back home to Florida, the day after he arrived.
On another occasion in July 1995, I invited Lee to celebrate Mass at a spiritual gathering attended by a small group of very special people whom I felt had been handpicked by the Holy Spirit. Knowing of my previous attempts to get him out of the box, I was probably the only one (besides his wife Roseann) who noticed that he never lifted the Bread from the plate on the table, nor recited the words of the Eucharist. with us.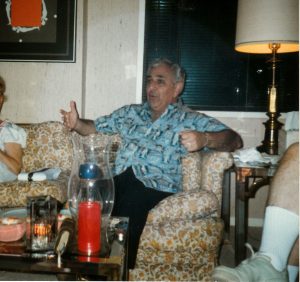 Lee Ganim, July 1995, Falls Church, VA
Lee and Roseann's ministry for the first few years of their involvement with CITI consisted of helping with development needs. They also hosted the beginning of our advisory meetings after a few followers (lay people and priests) knocked on our door. It was a slow tug, a gentle nudge for Lee, but when people started to call him for ministry, he felt compelled to respond. There were so many spiritual needs among those turned away by the church because of divorce, annulment issues, pastors refusing to baptize if a couple wasn't married or didn't attend Sunday Mass and leave money in the collection box; no one available for Last Rites, confession, or just a spiritual conversation. When Lee finally said "YES," his popularity as a willing married priest without borders grew fast.
In 2002, CITI hosted a seminar in NYC on clergy sexual abuse. Part of the weekend included a visit to the somber Gound Zero after 9-11. It was Lee and Roseann who thought to prepare a prayer for our small group to share quietly while we were standing in a unobtrusive corner of that Holy Place. Before we knew it, several passersby joined in the sad remembrance of those who died. It was a poignant day, and Lee was forever the priest.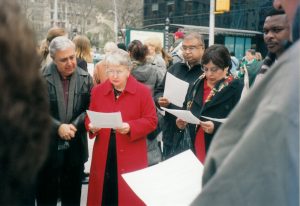 2002 at 9-11 Ground Zero
Lee also concelebrated the Mass at the Clergy Sexual Abuse seminar, along with Presbyterian Minister The Rev. Michael Livingston who was National Director of the International Council of Community Churches, CITI's legal affiliation for civil marriages by married priests; and Fr. Gibbon Bogatsu, a visiting married priest from South Africa Rent A Priest.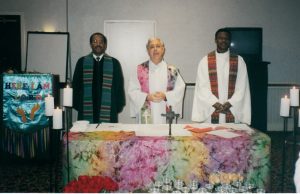 The Rev. Michael Livingston (ICCC), Fr. Lee Ganim, Fr. Gibbon Bogatsu (South Africa)
Lee regained fully his priesthood and today, some twenty odd years later, he celebrates Mass and fills whatever ministerial need there is–Catholic or not. Just about anything the Holy Spirit throws at him, he accepts.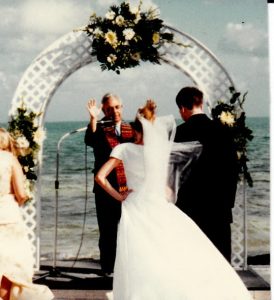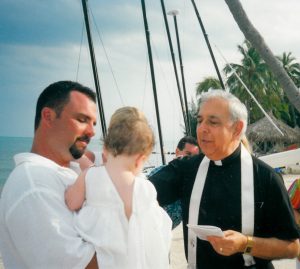 Lee appeared in several CITI/Rentapriest interviews available on youtube.com and vimeo.com, including CBS-TV's 60 Minutes in 2002 with Morley Safer, PBS-TV "Religion and Newsweekly" story of the week in 1999. In all of his discussions, interviews and presentations, he has always conducted himself with reverence to the church. Lee and Roseann's involvement and ministry in CITI continues to blossom. (leeganim@gmail.com)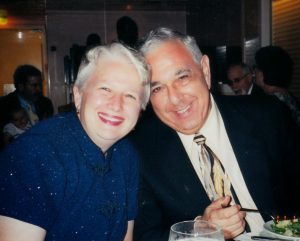 Lee and Roseann celebrating 40 years of marriage
While Lee and Roseann's ministry stands out in my mind for this blog installment, I have additional glorious memories of others who came forward during my tenure in CITI. Those stories and special spiritual people will appear in forthcoming installments. Just the thought of the happy times we had as we were doing so many good things for the Holy Spirit brings a smile to my face. My own gratification is knowing that I have known these Holy people in my lifetime. To know a married priest couple–even to attend one of their conferences–is like walking through the pages of the Holy Scriptures. I still thank God every day for being chosen for this mission.